ABOUT THE SHOW

Finding the Good Life with Dr. Gene is a groundbreaking television series that highlights the link between Oral and Systemic health.


The show expands Dr. Gene's focus beyond the realm of Oral Health, to explore the best and healthiest ways to improve all of life's experiences. He'll cover everything from how good Oral health is just the beginning to enhancing your overall wellness, how exercise, food and weight management are pathways to look and feel better. He'll also discuss the latest products and gadgets that can improve your quality of life — and don't forget about relaxation! Meditation, yoga, vacation — and just taking a break can improve your attitude and human interactions. All together Dr. Gene is here to help you find the 'good life'.
ABOUT DR. GENE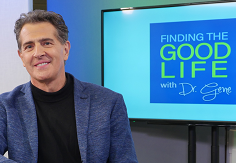 Dr. Eugene Antenucci has devoted hundreds of hours to learning the most advanced techniques in dentistry in order to provide his patients with the best dental care available. In the process, he has created one of the most well respected dental practices not only in Long Island but throughout the United States.
Dr. Antenucci began his dental career as a United States Air Force Dentist and Captain. When He returned to New York in 1987 his private practice developed and grew into a state of the art dental facility in Huntington, NY, which was distinguished as "Dental Practice of the Month" by Dental Economics in May 2003, and "Business of the Year" by the Huntington Chamber of Commerce. Dr. Antenucci has now brought his expertise to Bayshore Long Island, where he has created a practice which provides the most advanced technology and skills available in dentistry today.
WE WANT YOUR CITY TO 'FIND THE GOOD LIFE!'
If you're interested in airing the show on broadcast, cable, or OTT platforms, please contact: syndication@enpointe.tv