ABOUT THE SHOW
Finding the Good Life is a groundbreaking television series that expands Dr. Gene's focus on health and wellness far beyond his work in the realm of Oral Health as a practicing dentist.
The show explores the best and healthiest ways to improve all of life's experiences, covering all aspects of health and wellness, from nutrition, food choices, weight management and exercise, to issues affecting the health and wellness of infants, teens and elderly adults. Dr. Gene explores topics ranging from stress and anger, to the healing power of animals in our lives and the healing power of art.
Finding the Good Life is all about our Journey in Life, and about finding ways to make this journey personally meaningful and fulfilling by exploring all avenues to help people lead lives that are based in health and wellness.
Follow Dr. Gene in the Journey – on Finding the Good Life.
ABOUT DR. GENE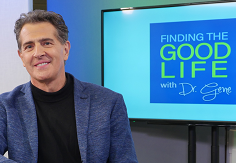 Dr. Gene Antenucci began his career in healthcare as a United States Air Force Dentist and Captain. When He returned to New York in 1987 his private practice developed and grew into a state of the art dental facility in Huntington, NY, which was distinguished as "Dental Practice of the Month" by Dental Economics in May 2003, and "Business of the Year" by the Huntington Chamber of Commerce. Dr. Antenucci has now brought his expertise to Bayshore Long Island, where he has created a practice which provides the most advanced technology and skills available in dentistry today.
As a practicing dentist, Dr. Gene devoted hundreds of hours to learning the most advanced techniques in dentistry in order to provide his patients with the best dental care available. In the process, he is among the most respected dentists in the United States. He has been a professor in several dental universities, and conducts seminars internationally. Dr. Gene's first television series Journey of a Thousand Smiles aired on cable networks internationally. The show explored the connection between oral health and total body wellness. Now, on Finding the Good Life with Dr. Gene, he brings his expertise as a Health care Provider and Health Care Coach to world of nutrition, diet, fitness, emotional health, spiritual health and much more.